Anonymous Legends: A History of New Orleans Music
Anonymous Legends: A History of New Orleans Music is a multimedia production combining storytelling, imagery, performance, education and history. Each Anonymous Legends experience begins at a unique moment in time from which a narrative is built connecting social and political events to the development of specific styles of New Orleans music. Each Anonymous Legends band features the New Orleans musicians who are closely connected to that history and who share personal insights, stories and lessons learned from the musical giants who came before them.
 
The spirit you hear in the music of Southeast Louisiana and the spirit you feel when you walk the streets of New Orleans- they come from the same source- a source that, during the time of slavery, was virtually nonexistent outside of Louisiana. That source is hope. In 1685, shortly before the first African slaves set foot on what is now Louisiana, King Louis XIV passed the Code Noir decree defining the conditions of slavery in the French Colonial Empire. That decree afforded slaves simple rights, dignities, and opportunities that were unheard of in other slave colonies. As a result, during slavery, more than 13% of blacks in Louisiana were free, compared to less than 1% in other southern states.
 
On Sundays, slaves were allowed to gather in New Orleans' Congo Square to celebrate their native cultures and religions, to dance, trade freely, and earn money that afforded many the ability to purchase their own freedom. This occurred nowhere else on the North American continent during the time of slavery. It was the only place where that hope for freedom bloomed, ever so slightly, but enough to take root. And out of that small seed of hope, music came! And from the blues grew jazz and funk, bebop and ragtime, zydeco, R&B, bounce, and all the great genres we now know as the sounds of New Orleans.
 
Louis Armstrong, Mahalia Jackson and Jelly Roll Morton are the legendary names of New Orleans music. Anonymous Legends: A History of New Orleans Music tells the story of the music and musicians who inspired those New Orleans legends, and who contributed just as significantly to the music we are blessed to share in today. Their lives and music are the inspiration for Anonymous Legends, and for sharing through music, the epic journey that led from one of the most brutal periods in the development of man to the growth of one of the world's most inspiring musical centers.
 
Excerpts from Anonymous Legends: A History of New Orleans Music
The first section of the above video represents the inaugural manifestation of the idea for Anonymous Legends: A History of New Orleans Music, which took place at The Portland Art Museum.
0:00/1:32

0:00/4:59

0:00/3:35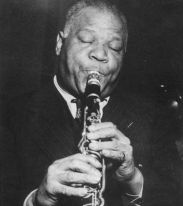 La Petite Fleur was written by Creole New Orleanian Sidney Bechet who played the very first composed blues solo ever recorded, and is largely responsible for the soprano saxophone finding a place of prominence in jazz music.  Sidney Bechet was also a great educator who taught renowned clarinetist Alvin Batiste, who in turn tought Reggie Houston and so many gifted musicians who continue to carry on the tradition of New Orleans music and arts education.

"Bechet to me was the very epitome of jazz," said Duke Ellington
.