Reggie Houston's Crescent City Connection
Playing the high-energy, danceable, genre-jumping sounds of New Orleans music, rooted in funk and R&B, Reggie Houston's Crescent City Connection is designed to get you on your feet and dancing!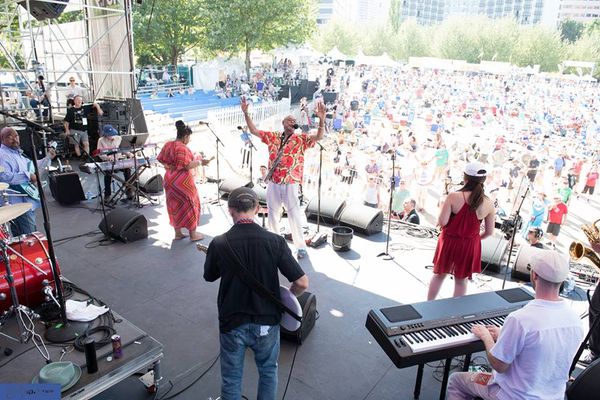 Core Band:
Reggie Houston - Saxophones and vocals
Reinhardt Melz - One of the most respected, versatile, and accomplished drummers in the Pacific Northwest, Reinhardt is regularly called on by musicians like Gino Vanelli, Curtis Salgado and Bobby Torres among others.
Tyrone Hendrix - Alternating with Reinhardt, and no less accomplished, Tyrone has performed with greats like Stevie Wonder and Liv Warfield.
Ben Jones - A master bassist, Ben has recorded toured with The Neville Brothers, Anita Baker, Liv Warfield, Jennifer Batten, Charmaine Neville and The Oregon Symphony among many.
Peter Dammann - This soulful, Chicago-born guitarist is best known for his award winning blues guitar and as the artistic director of the second largest blues festival in the US, The Waterfront Blues Festival.
Michael Elson - Multi-instrumentalist and Reggie Houston mainstay, Mike plays keyboards with the Crescent City Connection but is widely known for his accomplished bass playing as well. 
Peter Moss - Performing with the Crescent City Connection on both baritone sax and flute, Pete is the 2015 winner of Cascade Blues Association's "Best Horn Player" award and also a regular member of Norman "The Boogie Cat" Sylvester's band.
Taeko Yokoyama - Originally from Japan, Taeko started out several years ago as one of Reggie's star saxophone pupils. So gifted, and such a proficient learner, Taeko quickly graduated to performing regularly with Reggie in Portland and on the road.
Featured Guest Musicians:
Curtis Salgado - This monstrously talented blues harp player and vocalist appears on two tracks of Reggie's CD "Homage 1."
Charmaine Neville - An electrifying performer and master of vocals and rhythm, Charmaine began her career singing in her father's band, The Neville Brothers. From there she went on to perform with Reggie Houston in The Survivors before the two of them co-lead The Charmaine Neville Band for years.
Amasa Miller - Keyboard player for The Charmaine Neville Band, Amasa has a long history of performing and recording with Reggie Houston.
Russell Batiste Jr. - Most widely known for his drumming with the Funky Meters and Papa Grows Funk, Russell began his musical career at age seven with the Batiste Family Band. Russell went on to perform with The Charmaine Neville Band, Harry Connick Jr., Maceo Parker, Robbie Robertston and many others.
LaRhonda Steele - Portland, Oregon based powerhouse vocalist with gospel roots who fronts her own band, serves as choir director for the Portland Interfaith Gospel Choir, and is a featured vocalist on Reggie Houston's Homage 1 release.
Louis Pain - "Portland's Boss of the B-3," Louis Pain is a highly in-demand musician who has performed with Jules Broussard, Curtis Salgado, and Paul DeLay. Pain's release with LaRhonda Steele (mentioned above) titled, Rock Me Baby, received 4 out of 5 stars from OffBeat Magazine.
Nafisaria Scroggins-Thomas - Beautiful gospel vocalist who performs regularly with some of Portland's most respected musicians, and was raised up in the music by her mother, the legendary Grammy-nominated Portland pianist, Janice Scroggins.
Arietta Ward - Another Scroggins prodigy and older sister to Nafisaria, Arietta is an accomplished and versatile vocalist, singing jazz, funk, gospel and African styles as well as writing music and playing piano.
Lady A - Though based in Seattle, Washington, this singer's roots are all southern gospel and Louisiana funk and her performances are always smokin' hot!
0:00/6:29

0:00/2:07

0:00/5:28

0:00/5:39