Posted September 25, 2005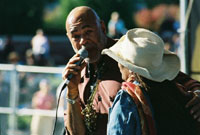 Blues For Katrina was a remarkable event-- Not only did it raise $110,000.00 for the hurricane relief effort, but it raised spirits and renewed hope. 
Late in the festival, most of the musicians were on stage for The Ray Charles Tribute Big Band when Reggie was able to slip away for a moment. 
Backstage, a woman called to Reggie. Her name was Faye, and like many of the musicians up on that stage, she had recently lost everything to Katrina. 
"I thought the spirit of New Orleans had washed away in the flood," she said. "But it's right here in Portland, it's in the people." 
Reggie ushered Faye backstage with a hug and whisked her off to meet Charmaine where Faye went on to describe how downhearted she had felt until she came down to the waterfront and felt that spirit. Faye explained that when she saw that a real connection had formed between the people of New Orleans and the people of Portland, she felt so hopeful for the first time since the tragedy. 
And you really could feel that spirit rise, buoyed up by the strength of community support, and the uplifting and healing power of the music. And for that Reggie gives a heartfelt thanks to everyone who came together and donated their time, money, resources and talent to manifest such a beautiful and successful benefit. 
Reggie extends his love and gratitude to: 
The City of Portland for donating Waterfront Park for the event. 
Oregon Food Bank and all the folks who make The Waterfront Blues Fest happen 
All the vendors who donated 100% of their profits to the cause 
All of the corporate sponsors whose financial support made it possible to donate 100% of festival proceeds to the relief effort. 
The people of Portland who came out and gave so generously of their money ($110,000 from 5,000 people!) and of their spirit! 
The local musicians for embracing the spirit of New Orleans, and for donating their time and talent. 
The New Orleans musicians: Charmaine Neville, Lance Ellis, Devin Phillips, Gerry "Flipper" Meldrum, and Chuck Barber who lost so much in the hurricane, yet came together to give their strength and support to the other victims. 
And Reggie would also like to thank his adoptive community-- his Portland blues family, his Laurelthirst family, his Candlelight and Pshaw family, and all of his new friends who have made Portland feel like home.