Written by Reggie Houston November, 2006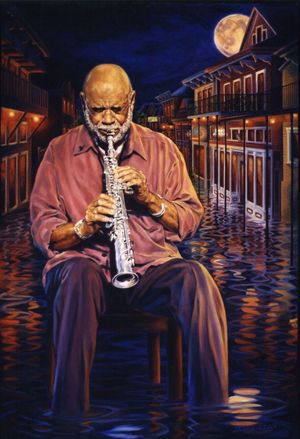 On August 29, 2005, while preparing for a little Monday night gig, I was tracking with interest Katrina's movements in The Gulf. I was in good spirits because I knew where everyone was and believed that they were all safe. Late that night I turned on the TV to get an update. The levee had breached. The unthinkable had happened, and shock ensued. 
The next evening Tom D'Antoni, journalist, author, philosopher and friend came to my regular Tuesday night gig and was moved to write an article, an excerpt of which appears below, and which was printed the very next day in Portland's daily paper, The Oregonian. 
"At the bandstand, Reggie played with a greater intensity than usual. At the other end of the room, the endless loops of devastation played on CNN. Reggie provided the soundtrack. The juxtaposition of the classic "Junko Partner," and the raucous brass band tune "It Ain't My Fault" with a ruined New Orleans was uplifting and heartbreaking all at the same time." 
Remarkably, in just a few short weeks, The Oregon Food Bank and Waterfront Blues Festival with Peter Dammann leading the charge, mobilized the community and pulled off the enormously successful Blues For Katrina benefit which raised $125,000.00 for The Second Harvest Food Bank of New Orleans. 
As part of my performance for the benefit, I asked Tom to read the article he had written while I played Sidney Bechet's "La Petit Fleur." When Tom mentioned Congo Square, I felt a strong emotional force well up within me. My mind raced with thoughts about how that area had changed. I thought about my old neighborhoods, my family, children, friends, and the smells and sounds of New Orleans. Images crowded my mind, and while Tom read, tears streamed down my face as I continued to play. 
The artist, Diane Russell, who was in the audience snapped a photo of me at that moment. In that image she captured my tears of realizing all my losses. Tears that said what I could not bear to. Tears of pain for the people and history that were swept away by the flood waters. Tears of pain, but also of thankfulness and joy for each of the people who made it through that tragedy and for the indomitable spirit of New Orleans and her people. 
Diane has honored me with a truly beautiful painting (pictured left) that expresses so much-- not only the feeling of that moment, but an expression of memories of my New Orleans-- not the famous Bourbon Street, but Frenchman Street, and Snug Harbour Jazz Bistro. Now that's N'awlins. 
N'awlins Cher! Dat's how we say it. N'awlins. 
My home town. 
The smells: 
"Aint" Liza, with her lavender and morning jasmine about her modest little house around the corner from my family home. Tea cakes filling my nostrils with her ever-present love. Lemonade, my "bellie washer." 
Oh! The many smells! 
And the sounds: 
Honey Bay yellin' "watda melon, watda melon, red to da rind, sweet as sugar and cold as ice" from his early 1940ish truck we called "the vegetable wagon." 
Oh! The many sounds! 
The spirit of New Orleans lives in her sons, daughters and lovers. 
Thank you Diane for honoring my great city with me being a part.